Film Making
We live them while we make them – Film making.
T.I.C. FILMS: AN INTRO
Nearing on 1,000 films, produced for over 50 multinational brands, T.I.C. Films has definitely carved out a huge niche for itself as an exclusive 'Films Agency' based out of New Delhi. The difference here is that, we have outgrown from being a mere 'Films Production House' by partnering an array of highly reputed international brands at a thought level, through our insightful, innovative and impactful films.
For the record, we have produced India's first virtual stereoscopy film, where an animated 3D character on a giant screen actually interacts with you live (and again for the record, no one else in India has thus far been able to produce an equivalent to that till date). Besides, we have also done India's first 3D product film and India's first corporate film using a music track solely created out of recorded ambient noises, besides a host of other highly impactful films.
The prime reason we have been able to do all that and lots more, is our comprehensive ideation-to-execution one-stop in-house setup, which includes conceptualisers, script writers, directors, research personnel, graphic artists, designers, animators, editors and production controllers – a well-rounded 360-deg combination which is hitherto unmatched in New Delhi.
T.I.C. Films specialises in a variety of genres, including fiction, non-fiction, shoot based, 3D animations, classical animations and new era motion graphics, and that too, answering to a wide array of briefs, including television commercials, corporate films, promo films, motivational films, awards ceremonies, product launches, dealer meets, employee meets, team building, training films, HR related films and depictive graphics based films.
Yet another aspect that distinguishes us from the rest, is a super strong legacy of our parent organisation T.I.C., one of India's leading provider of turnkey experiential marketing services, clocking over 16,000 experiential events spread across 1,000 cities globally, along with partnering over 400 brands in the process, over the last 23 years.
Together, Let's Say Action!
TATA MOTORS Iris FIlm
This is quite clearly a landmark film in the world of Corporate Films in India. When Tata Motors launched their 4-wheeler mini taxi for commercial usage, called Iris, they desired for an experience to be imparted to the audiences that was hitherto never experienced before in India. And on our part, we kept it real simple. Instead of trying to create anything out of this world, we simply animated the vehicle into a caricature-ish avataar. And that did the trick. It became India's first 3D Stereoscopic film, in which the same character (the vehicle itself) interacted live with audiences. Post a mega launch in Mumbai, the live on-screen character was taken around in the form of a road show for over 2 years, wherein it has interacted with over 10 million target audiences till date spanning the length and breadth of this nation. Not that agencies haven't been inspired and tried to replicate it, but such a live character or a film is yet to be replicated in India.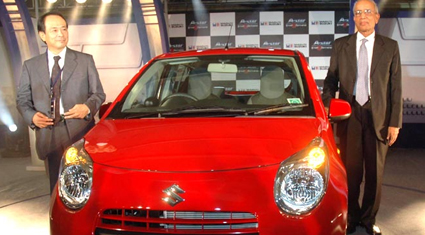 MARUTI A-Star Film
When Maruti launched it's A-Star, they wanted to impact a grand experience to the audiences. So we proposed to create a corporate film for the vehicle using 3D technology; and it became India's first 3D Product Film. Later, the film was taken across multiple exhibitions, expositions and hightraffic platforms, where thousands of people enjoyed the film using polarised glasses.
NESTLE Dr. Pro Series
Nestle India, especially its Infant Nutrition division, wanted a film addressing doctors and healthcare professionals, imparting them technical and medical related information about one of their products. When the scripts were readied internally, they realised that all that content might just turn into an technical overdose for the physicians, and might get boring, which would defeat the purpose heads on. So they approached us. We suggested to create a brand ambassador that advocates the brand in a quirky and funny manner, which was instantly liked. But there were issues involved. For Nestle, most of their creatives came from their global head office, so creating even a small object was a big challenge when it came to acceptability – and we were talking about creating a brand ambassador here. Nevertheless, post relentless iterations and presentations, the idea did manage to go through, which saw us doing a series of 15 films using a 3D Character called 'Dr. Pro'. The series is still on, with quite a number of films already completed and being showcased to doctors across the country, and the remaining ones in production, to be releases shortly.
GMR T3 Film
GMR wanted to host an awards ceremony to honour various personnel across multiple verticals, working within the premises of the T3 Indira Gandhi International Airport Terminal. So they approached us for an exclusive idea – and did we deliver. We proposed to actually shoot with a multi-cam setup across every inch of the airport premises for 6 days, covering each and every aspect of the professional working there. And side by side, we used specialised audio recording equipment to record the ambient sounds all the way. And at the end of the day, we put it all together in the form of a dynamic thematic film, powered by a track that was created using only those recorded audio pieces. Thus came into life India's first corporate film using recorded ambient sounds, and instantly became a hit with the client as well as thousands of other people exposed to it over the next few weeks.
TATA MOTORS T1 Film
The Tata Motors T1 Prima Truck Racing Championship organised in 2014 at the Buddh International Circuit in Greater Noida, was the first truck racing championship ever to take place in India. And for ideating and organising the mega event, T.I.C. even won the 'Gold' at the most coveted industry awards in the India today. So when it came to producing a film for the event, how could it not have been T.I.C. Films in action? Not only did we cover the 2-year long preparations sporadically, but also covered the week long setup at the venue using a multi-cam setup. On the day of the race, we, along with Ten Sports, had a 36-Camera setup around and across the tracks and the entire venue, covering each and every aspect of the mega show. Quite expectedly, the extensive preparations did pay off, and what we managed to come up with, was an exclusive film covering the entire 2-year long multi-pronged preparations extensively, including all the memorable and unforgettable moments of the first edition of the race in India.